Main Index Page
About Your Host
Send Me E-Mail
Browse the Archives

ARCHIVES for March 2006
---
Spotted in The Hockey News

This oddly familiar logo for Rögle BK, the team from Ängelholm in Sweden's second-tier Allsvenskan league. It's cultural imperialism, Edmonton-style! Leafs and Isles fans may recognize Ängelholm as the hometown of former All-Rookie defenceman Kenny Jonsson: sure enough, Jonsson is the current Rögle captain.
It may be worth reflecting on the trade, almost ten years old now, that sent Jonsson to Long Island with Sean Haggerty, Darby Hendrickson, and a first-round draft pick for Wendel Clark, Mathieu Schneider, and D.J. Smith. The Isles used the pick on a fellow named Luongo, but then they forgot to stop drafting goalies and kindly shipped him to Florida with Olli Jokinen in 2000 just so the Panthers franchise would have a permanent nucleus. Schneider followed a circuitous route (back through Toronto) to Detroit; you'd never know it from the esteem in which he's now held, but he was actually claimed by Columbus in the 2000 expansion draft.
- 10:05 pm, March 31 (link)
---
A serious question for informed readers: when and why did Canadian meteorologists introduce this clumsy term "A mix of sun and cloud"? That is now the forecast every single day in Edmonton. I have vivid memories of learning the phrase "partly cloudy" from Mrs. Mikulski in kindergarten: this is now apparently a defunct piece of verbiage. -6:32 pm, March 31
---
I guess absolutely no one in the media has any problem with the continued trend towards assigning privacy rights to dead people... not when 9/11 is involved, anyway. Are we content with biography becoming a dead genre of literature in the English-speaking world within 20 years? That's where we're headed. -6:31 pm, March 31
---
Wait... wasn't this a Simpsons episode? Deadspin stumbles across a photo to break every sports fan's heart. -6:29 pm, March 31
---
You've heard the story of the failed Ben Stiller/Jack Black/Owen Wilson pilot "Heat Vision and Jack"; maybe you've even read the script. Now the show itself has been YouTubed. -7:02 am, March 31
---
What's wrong with sportswriters, Exhibit A
First 28 words of Bob McKenzie's latest hockey column for TSN:
People always ask me if I have a favorite team that I cheer for. The answer is no, as the fan in me died a long time ago.
Really? What's left behind then? The fatuous, attention-seeking child? The strutting, mercenary whore?

McKenzie certainly doesn't mean that he no longer gets pleasure from hockey: he's using the word "fan" as a pejorative, the way Nietzsche used "human." McK's saying he has transcended, attained a higher state. The fan had to die to make way for the expert. It's kind of like a political columnist describing himself as no longer a mere voter.

- 8:40 am, March 29 (link)
---
Don't worry, Dave, there's lots of embarrassment to go around
David Gonos, CBS Sportsline's senior fantasy writer, has an interesting entry on his site from March 15. He tells the hilarious story of joining three friends in a blind draw for NCAA basketball teams at the Sportsline office, with a sombrero serving as the holder for the individual team slips:
Flood reached in his tobacco-stained fingers to pull out...
GEORGE MASON. Seriously.
I protested that this Mr. Mason was obviously the owner of said sombrero and that his name tag accidentally landed in the hat. I was shooed away promptly.
That's not really the funny part. The funny part is when Gonos reaches in to make his own pick.
I reached in and yanked out--(a golf ball would have been perfect a la George Costanza)--
U-Freaking-CONN!
Not just one of four No. 1 seeds, but one of the teams expected to battle for the whole shooting match.
The first thing out of my mouth was, "Why the heck did I join this group of losers? I could have had UConn all to myself!"
Maybe the mysterious orient is on to something with this whole "karma" concept?

- 10:57 am, March 28 (link)
---
Sketch comedian Tim Heidecker survived a pretty serious stabbing at the hands of a paranoid-schizophrenic neighbour last week. It's a compelling horror story with plenty of "could have been me" factor if you live downtown. -5:02 am, March 28
---
Rough justice
There can be no disagreeing with John Oreovicz's diagnosis of the Paul Dana accident: "in my view, Paul Dana's inexperience and unbridled enthusiasm may have cost him his life... Dana was in that Rahal Letterman seat because he put together a commercial package at a time when open-wheel sponsorships are incredibly hard to come by."
In 25 years of watching open-wheel racing, I've never seen a more egregious case of pilot error--and I've seen some of the true greats of asininity ruin racing machines in Formula One. If you've seen the footage, you know Dana hits Ed Carpenter at race speed eight full seconds after the caution flag comes out. Oreovicz reveals what you don't see on-camera: Dana actually blew past Buddy Lazier under the yellow flag as drivers were dodging the wreck. It has to be said that if someone had to die in the collision, better the guilty party than the entirely innocent Carpenter. It's not exactly the brightest moment in the annals of participatory journalism.
- 12:09 pm, March 27 (link)
---
Pretzel logic
Strange are the ways of baseball, wouldn't you say? The Washington Nationals have perhaps the finest second baseman on the face of the earth, Jose Vidro--a three-time All-Star who's hit .300 five times. But as organizations sometimes will, they took an expensive off-season flyer on Alfonso Soriano, another second baseman who just happens to have 40-homer power. The basic theory behind the move is sound, since Soriano is acknowledged to be perhaps the worst, most inattentive middle infielder in the major leagues. But after arriving in the Nats' camp, Soriano creates a stir by refusing to play left field for 24 hours.
The more you look at the situation, the weirder it seems. First of all, Soriano has played the outfield in spring training games and the minor leagues, and is excellent out there. The hardest part of playing the outfield is getting an early jump on a batted ball; Soriano is acknowledged to be remarkably good at this. In his first game back from the sit-down strike, he even nailed an inattentive baserunner for a double play, something the best left fielders only do a dozen times in an average year.
If your boss told you he wanted to you to change jobs, and had good evidence that you'd be more likely to succeed at the new job, would you regard it as a provocation? Soriano apparently did. But the truth is even stranger than that, because second base is a career-crushing death machine for ballplayers. Vidro himself has found his healthy periods and his unit productivity declining as the years go by, playing just 110 games in 2004 and 87 games last year. Soriano is earning $7.5 million a year for his bat; at that rate, the wear and tear from collisions on double-play balls could easily cost him ten to fifteen million dollars in the long run. And yet, because of Vidro's lack of sturdiness, Soriano was guaranteed occasional work at the position if he had just shut his trap and played the organization man. Now Frank Robinson is in an impossible situation, and has made a public statement to the effect that Soriano is not going to see an inning at second.
The real question is perhaps not why Soriano refused to play left field, but why Jose Vidro doesn't get his ass out there before he gets killed.
- 7:56 am, March 23 (link)
---
Found!
The Courier-Mail of Brisbane catches up with retired chess prodigy Josh Waitzkin, protagonist of Searching for Bobby Fischer, in a piece from last week. Waitzkin was already moving away from chess in his late teens, and it's not surprising to hear that, like many high-strung young celebrities, he has taken refuge in Buddhism. Sadly the article is plagued with the usual snafus that crop up in press coverage of chess: Waitzkin was never U.S. national champion, let alone eight times. And describing Garry Kasparov as "normally cool-headed" is about like calling John McEnroe "unusually relaxed."
- 6:53 am, March 23 (link)
---
Follow the bouncing ball: I'm throwing down with several Alberta sportsbloggers on a new 12-team fantasy baseball league; the untimed part of the draft begins later today, with your correspondent in the unenviable 7th slot. Participants include The Battle of Alberta's Matt Fenwick, four members of Sports Matters, and skilled young hockeymetrician MC79. Despite long years of baseball fandom, it's my first time as GM of a fantasy team; wish me luck and feel free to send tips to the usual address. -6:50 am, March 23
---
Reflections in a golden eye: Check out this cool movie poster weblog from Berlin. -5:25 am, March 22
---
Pioneer who got scalped
Over on his weblog, Canada's visionary animator John Kricfalusi is explaining how the Beatles ruined the world and how he accidentally made billions of dollars for TV studios that still won't let him in the door. (His case for the latter proposition seems pretty airtight to me.)
- 11:15 pm, March 17 (link)
---
Anagram front: The other day, in a now-vaporized thread on Covered in Oil, I rearranged the letters in "TORONTO MAPLE LEAFS" and found the phrase "PLAN FOR TEAM TO LOSE". In a just world this would guarantee my immortality... -4:00 pm, March 17
---
My own cool NHL stat discovery of the day: Edmonton Oiler Ales Hemsky now has 51 assists on the season--which is more than any two Calgary Flames combined. Memo to the national sporting press: I know you've got a lot of terrific youngsters to profile, but do try and find some room to talk about the 22-year-old Hemsky making the Leap... -3:55 pm, March 17
---
Cute NHL stat note from Eric Duhatschek: Joe Thornton is about to become the league's first 100-point scorer since... Joe Thornton, who was the last of three players to make the ton in 2002-03. -3:52 pm, March 17
---
Aging sucks, part n: did you know that George Harrison's All Things Must Pass, the post-Beatles triple album, contain a special greeting to John Lennon in the liner notes? The occasion: Lennon's 30th birthday. So, hey, what have you accomplished lately? -3:42 pm, March 17
---
Hockey research: an infographic
Average NHL salaries by current depth-chart position: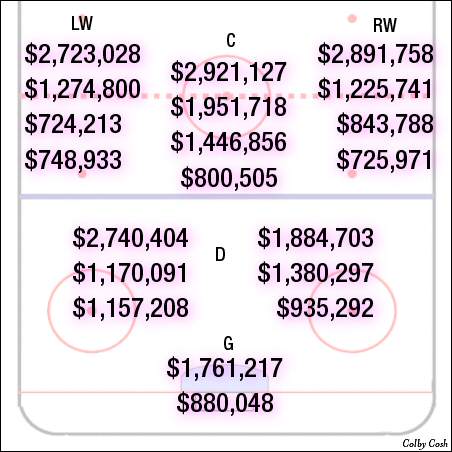 The data were taken Wednesday night from a complete electronic survey of all 30 NHL teams using depth-chart identifications from TSN.ca. For one reason or another, about 10% of the relevant cells are missing. I can find no indication of possible bias, but the precision in the numbers presented above is entirely bogus.
I can see no great surprises in the data, but I would regard it as a poor reflection on the league that starting goaltenders receive money less than #2 centres on average. This information could be used to render individual salaries in "marginal dollars" as part of a quest for overpaid (or exceedingly valuable) players. Jaromir Jagr, whose $7.8M salary is the league's highest, is also the NHLer whose salary is furthest above average for his depth-chart position.
I've been playing with salary data a bit. The coefficient of correlation between money spent on a team's top 20 players and that team's success in the standings is +34%, which I would describe as "significant but not overwhelming." If you correlate the salaries at individual depth-chart positions with winning percentage, you get a bizarre and compelling finding: it doesn't matter much what you pay your left wingers, nor even your #1 centre, but there is a very high return on having a high-paid second centre (+42%) and a top-line right-winger (+44%).
I would venture that these are the positions in the depth chart where supply lags furthest behind demand. Pretty much everybody has one outstanding centreman, but there isn't enough talent to fill the second layer, so you have teams limping along with guys like Dean McAmmond or Manny Malhotra in the two-spot. And when it comes to wingers, it is always easier to find someone to play the left side credibly; an elite RW must either shoot "right-handed" naturally (as only a minority do) or be able to hit the tape every time on the backhand.
Another seemingly crazy finding is that teams which do pay their starting goalies more actually fare worse in the standings (-20%). I don't have a ready explanation, but if you look around you'll see it clearly enough: the highest-paid goalies are doing merely decent work for mediocre-to-bad teams (Luongo, Kolzig), are just having poor years (Nabokov, Turco), or are somewhere in the middle (diPietro). Dominik Hasek, being injured, did not appear in the data set. That tilts the correlation slightly toward the negative; aside from him, the only goaltender receiving elite pay for an elite season is Miikka Kiprusoff.
- 6:39 am, March 16 (link)
---
The Empire dies not until the last blancmange is eaten
Jonathan Margolis has a fascinating article in the Independent about objectively horrid or useless British groceries whose brands appear to be nearly immortal. Margolis clearly underestimates the culinary adaptability of items like instant mashed potatoes or artificial gravy browner--but it's true, I think, that the consumption of Marmite is hard to account for unless you're living on an agriculturally unprepossessing island ringed by a cordon of hostile submarines.
The editor of The Grocer, Julian Hunt, says products that refuse to die are called "orphan brands" by marketing people. "These are the smaller, older brands that big multinationals sell off because they no longer fit. Things like Vim, Ambrosia, Harmony hairspray and Bird's custard. Certain specialised companies are adept at buying these brands up and keeping them alive.
"And don't underestimate," Hunt says, "how big some of these orphan brands actually are. Fray Bentos sounds like it hasn't existed for years, but as a brand, it's worth £33m a year. It's quite difficult to get brands to do the decent thing and die."
- 12:33 pm, March 15 (link)
---
Attention Hollywood
Baseball researcher Jon Daly has discovered a remarkable story of gunplay and murder behind this puzzling page in the baseball encyclopedias. It's part of the still-nascent but very promising SABR baseball biography project. (þ: Primer)
- 10:19 pm, March 13 (link)
---
Yesterday's next big thing
The first American television station to air Monty Python's Flying Circus was Dallas PBS affiliate KERA-TV, which made the show a fluky U.S. hit in 1975--just in time for Monty Python and the Holy Grail to catch fire. Archivists have just discovered 15 minutes of extraordinary and hitherto-lost footage from a live studio appearance in Dallas by four Pythons. In the rediscovered reel, Michael Palin, Terry Jones, Terry Gilliam, and Graham Chapman have just flown cross-country from the L.A. premiere of Holy Grail, and the studio is literally packed with geeked-out Texan fans.
The orthodox history of the troupe records that Chapman's alcoholism was cured by long Grail shoots in the mossy, inaccessible countryside. Obviously some sort of correction is in order, because in this footage Chapman is drunker than any human being you have ever seen on television.
- 8:24 pm, March 12 (link)
---

Popcorn playhouse: In today's Post, I uncoil long-disused arts-writing muscles for the "Popcorn Panel" cinema roundtable. Watch for free online as I bat around Dave Chappelle's Block Party with panel chairman Craig Courtice and writer-illustrator Sarah Lazarovic.

- 10:04 am, March 10, 2006 (link)
---
Renaissance men
Film-industry announcement of the week:
Production outfit PZP Productions has announced plans to release its gay-sex film The DaVinci Load on May 19, the same day the movie that it parodies--Ron Howard's The Da Vinci Code--is scheduled to hit theaters.
...The plot--"very loosely" based on that of Dan Brown's novel--suggests that DNA from Da Vinci's own sperm has been found in the paint the artist used for his masterworks, and that the sperm is discovered to have supernatural powers.
"I love campy porn," said [producer Peter] Zaragoza, "so it was very hard for me to do this film without making it tongue-in-cheek."
(þ: MobyLives)

- 9:11 pm, March 9 (link)
---
Deliverance
Put me down as being in the half of Edmonton that's crazy about the Roloson deal. Roli could quite realistically, without exaggeration, be a goal a night better than our current goalies. Even if he's merely league-average, there's room for him to put 20 points back into the team save percentage. Over 25 shots a night--and that's a bad night for these Oilers--that's still half a goal. Good lord, how many roster changes buy you half a goal per game immediately? You could sign 1988-model Mark Messier as a free agent and not get an instant gain like that. So, me, I have no trouble giving away a mid-to-late first-round draft choice in a lean year. You'd be irresponsible not to make the move.
Still, there's a shocking amount of local negativity about the deal, probably from people who were eyeing one of the other available goalies. The strongest possible argument against the Roloson trade would run like this:
(a) The Oilers have a short-term and a long-term goaltending problem.
(b) Roloson is 35 years old--will be 36 by the time the '05-'06 regular season starts.
(c) Draft picks are the oxygen of a franchise. If the Oilers are going to give up talent for the long term, they should damn well be getting a long-term solution back.
Ordinarily I would agree with premise (c), but the lousiness of our existing goalies is just too great. Each of the three we've tried has been given four or five separate chances to seize the number-one job, and they've all sprayed diarrhea on the futon. The season facing us--a season in which the team can plausibly go pretty deep into the playoffs with the help of one B-grade goalie--has to figure as a huge variable in the optimization calculus. If Kevin Lowe had gone chasing a young, established goalie (Luongo, Biron), he would have had to chop up the current roster for trade bait. He could have sought out a young goalie buried in a stacked organization (Montoya, Schaefer), but you wouldn't want to give a guy like that the reins for this playoff drive. So it came down to which old guy you liked--and I like Roloson way better than Curtis Joseph, for whom the asking price was apparently higher.
- 10:25 am, March 9 (link)
---
Recording before recording
I was officially blown away by this research paper documenting early audio recordings of radio transmissions. Before 1925, records could be made for experimental, professional, or occasionally commercial purposes by means of several makes of "aluminum discs of from six to twelve inches in diameter, a special blunt-tipped recording stylus, and a heavily weighted recording head." Because of the fantastic fragility of the medium (and because of wartime aluminum drives), the surviving audio record of early radio amounts to a few dozen precious artifacts. Keep your eyes open at those garage sales.
10/19/25 -- Speech by Hon. W. L. MacKenzie-King. A short campaign talk by King from the Montreal Forum. Another Canadian broadcast recorded by Berliner for Apex Radia-Tone, probably airchecked from station CKAC, Montreal. King's rather tedious election speech is suddenly disrupted when an opposition political operative switches out the lights, and confusion reigns. Live radio at its best!

9/22/27 -- Dempsey/Tunney Fight. NBC Red/Blue aircheck recorded by "New York Recording Laboratories" of Port Washington, Wisconsin. The most memorable sports broadcast of the Twenties survives on a series of 10-inch 78 RPM pressings released on the obscure Paramount label. No relation to the film company of the same name, Paramount was a small, Wisconsin-based operation notorious among collectors today for the indifferent quality of its recording work, even as it recorded material by artists who are now very much in demand. Despite its pretentious name, the company did not own its own recording studio until 1929, and up to that date depended on facilities rented from other companies, mostly in the Chicago area. The recordings of the NBC broadcast by Graham MacNamee of the Dempsey-Tunney fight are among the rarest to be released by this company. Ten sides were cut, with each round taking up a single matrix. The sound quality is hollow and distant, leading to the conclusion that the recording was made by simply placing a microphone before a radio tuned to a station carrying the broadcast, most likely one of NBC's Chicago outlets. ...A tape dub of rounds 7 and 8 is in my collection, but only one complete set of these discs is currently known to exist. It is held by a private collector who has thus far not released a full tape.
- 7:21 pm, March 7 (link)
---
CW-correction
Probably overrated: the influence of "homophobia" on the Oscar vote against Brokeback Mountain for Best Picture. Probably underrated: the influence of satirists and late-night comedians on the vote.
I haven't seen Brokeback Mountain, but some things are simply defenceless against mockery, and judging from the Oscar-night clips, Heath Ledger and Jake Gyllenhaal's clenched-faced declarations of undying love are among them. Mainstream culture has now accepted homosexuality, but it's still an ironic acceptance: the stock phrase is the Seinfeldian "...not that there's anything wrong with that." In a strange way, the diversitarian modern outlook perhaps guarantees that gay (or unconvincingly bisexual) men can never expect "orientation-blindness" the way that racial minorities once pleaded for "colour-blindness"; we embrace gays as different but valuable, even precious. Indeed, it is almost a matter of "the gayer, the better."
It would probably be a poorer world if gay males were merely equal in capacity and similar in aspirations to the rest of us--and it would be difficult to account for high gay incomes and gay cultural leadership. (It can even be argued that extralegal relations between the races must be revised, in the long run, in favour of "different but valuable" as a more realistic, tenable, and virtuous goal than "equal in every regard.") Barring the triumph of a truly "orientation-blind" approach, gay men--relieved of the burdens of social persecution and legal proscription--will continue to pay the same modest price for being different that the obese and the aged do, or indeed that both sexes pay for being different from one another. And texts that argue for the "normalcy" of gay love and sexual life will fail to convince--and, in failing to convince, will make us giggle.
- 5:09 am, March 7 (link)
---
Boogie with Stew
I must say I was baffled to wake up to a long series of pissy reviews for Jon Stewart's performance as host of the Oscar broadcast. I thought he was splendid, especially at the times when the audience refused to cooperate with him. The overall tone of the broadcast was governed by dread: at least twice the proceedings were essentially halted for disguised futile assertions that digitalization isn't a problem for cinema exhibitors, and George Clooney's little "Screw you, America, we're the vanguard" speech sounded like the bleat of a dying animal. If the glitterati are going to show up in a sour mood like this, should comedians even be asked to MC?
- 4:00 pm, March 6 (link)
---
Fear part III
The discussion of history's most terrifying athletes (I, II) continues to rage in my inbox. Reader Tim Plett came at me with what may be a better summary of the Terror phenomenon than I was able to give:
I think you're absolutely right, in classifying the terrors separately from superstars. An athlete can be truly great without being a terror. Quiet efficiency--even deadly quiet efficiency--does not amount to terror. Great team play and winning don't necessarily produce terror.
The Great Terror isn't necessarily consistent, or a great team player, or a winner. He might not be multifaceted in his approach to his particular game. (I mean a Great Terror might be lousy defensively.) What a Great Terror is terrifying in is his ability to take over a game at any instant, and to literally paralyze opposition with his dominance.
Rob Huck nominated Scott Stevens, who inspired a great deal of literal fear in his time:
His play in all three of his successful Stanley Cup runs cemented him as being the most feared man in the game at the time. When he was on top of his game, the Devils won, simply because Stevens' game was to simply scare the bejeezus out of his opponents. There is a story about how his wife once asked to get seats along the glass for a game and then never sat there again because the look in her husband's face up close literally frightened her.
I would respond that (a) being afraid that someone is going to turn your #1 centre into a quadriplegic is not exactly the kind of Terror we're talking about, (b) Stevens' reputation didn't really explode until he went to the NYC media market when he was almost 30, and (c) not that it matters, but I'd hardly consider Stevens a deciding factor in that last Devils Cup win.
Mike Campbell writes:
I think I'm going to have to disagree with you about Hasek--I remember watching the 1998 Olympics and screaming at my TV, hoping that one of Team Canada's player's would run him (I'm not proud of that). Hasek had the ability to make games seem hopeless, as did Tretiak (if ever a goalie could inspire terror in opponents it was him in 1972). It's very difficult for a goalie to make this list because they have to let the play come to them, unlike baseball pitchers.
I agree with you about Lawrence Taylor, I am a Bears fan from way back and thought Mike Singletary was the better player, but LT could scare the devil out of you. Sort of like Mean Joe Greene, Reggie White and Warren Sapp--all potential candidates.
Ward Benedict makes a good point about Tiger Woods:
[You state that] "The fact that golfers are fighting the course as well as each other makes the anointment of a Terror awfully difficult in golf." Well, maybe the field has caught up some in the last few years, but when Tiger began to annihilate it early on, [plenty of golfers] were personally terrified of him. Guys could not even think of playing the course when they were paired with him.
Benedict points to the 1997 Masters, when Colin Montgomerie more or less kept pace with Tiger through 36 holes, was paired with him on the Saturday, and struggled to a 74 under unusually friendly Augusta conditions. As Rick Reilly wrote at the time:
Saturday was nearly mystical. As the rest of the field slumped, Woods just kept ringing up birdies. He tripled his lead from three to nine with a bogeyless 65. You half expected him to walk across Rae's Creek. Even when Masters officials warned him for slow play on the 14th, he kept his head.
That night there was this loopiness, this giddy sense, even among the players, of needing to laugh in the face of something you never thought you'd see. A 21-year-old in his first major as a pro was about to obliterate every record, and it was almost too big a thought to be thunk. "I might have a chance," said Paul Stankowski, who trailed by 10, "if I make five or six birdies in the first two or three holes." After playing with Woods on Saturday, Montgomerie staggered in looking like a man who had seen a UFO. He plopped his weary meatiness into the interview chair and announced, blankly, "There is no chance. We're all human beings here. There's no chance humanly possible."
Tom Schafer ("Talk about me dating myself...") ventures a word or two for Jim Brown: "In his prime, he was as close to unstoppable as anyone I've ever seen, and he also had that air of physical intimidation so important to true 'Terror' status." Well, Wayne Gretzky is the King of All Terrors even though he never physically intimidated anyone bigger than Neal Broten, but the point is taken. Also on the NFL front, David Crawford asks:
Speaking of terrors in sports, how could you leave out Jerry Rice? You knew that, anytime a DB was scheduled to go up against Jerry Rice, said DB had one thought. "I'm going to be on SportsCenter tonight, and not in a good way." Usually it's quarterbacks that make receivers look great. With Rice it was the other way around. Rice could catch a brick dropped out of a ten-story building, or grab a feather in a swirling windstorm. We won't see another like him for decades.
Wide receivers may be the hardest of all star athletes to consider Terrifying. For my part, if I had to pick one, it would be Randy Moss, not Rice. Yes, yes, he's a showboat and a locker-room cancer and blah blah blah: he's also the only WR I've seen who can outfox genuine triple coverage.
Ryan Adams ruminates:
I definitely agree with you about Ortiz. I'm a Yankee fan and no other opposing player causes as much dread in me than he does.
I'm surprised nobody has mentioned Randy Johnson. The guy had John Kruk scared to death in the All Star Game. And Larry Walker too. I'm pretty sure the backwards-helmet thing was a way to send Johnson the message "Hey man, this is all fun and games. Don't kill me, just strike me out".
Shaq qualifies in that if you have a specially named tactic for stopping him, he's a terror. Bonus points for the fact that Hack-a-Shaq didn't really work.
Mike Tyson was the greatest terror I ever saw. Even after he could no longer fight, he could win fights on intimidation alone. The Bruce Seldon fight was the best example of this. Tyson was two months away from being whipped by Evander Holyfield, but Seldon, who probably called himself heavyweight champion of the world, wanted out of there as quickly as possible. I'm surprised he didn't throw his belt on the ground and run away when Tyson bent over to pick it up.
Since we've mentioned Shaquille O'Neal, let's hear from basketball fan Ed Brett, who offers this wide-ranging overview:
It's surprisingly hard to come up with legit terrors in a league that markets individuals better than anyone. Opposing teams just say "he'll drop his 30" and concentrate on what you can contain (see "Kobe"--unless you're the Raptors). Vince Carter, narcissistic wanker extraordinaire, was a bit of a Terror for a time, but only because you'd be scared of getting posterized when you played him. Not anymore, obviously. Bird's a good choice: he managed to be both unpredictable and consistent, not to say deceptively, uh, white. Plus he was cruel. He'd drop his 30 and then trash talk you and the rest of your worthless team into four years of therapy.
Shaq was only kind of a terror: the man's over seven feet tall and 300 pounds and runs faster than a lot of point guards and is a deputized police officer and starred in Aladdin, so of course he's frightening. But with a few exceptions--the Trailblazers' dubious Hack-a-Shaq strategy, for instance--most teams still took the "he'll drop his 30" and moved on to the other starting four.
Who's left? Jordan, of course, but in that Tiger Woods sort of way: more a sense of inevitability than terror. How 'bout Robert Horry, Big Shot Bob? He's got a certain mythology, yes? Bruce Bowen's defense is kind of an open secret, too, and entire offenses are designed to get away from him. Plus, opponents hate him - hate him! - so that should count.
Horry is a great choice, exactly the kind of guy the category is meant to distinguish. He's probably never going to darken the door of the Hall of Fame, but if you're close and late in a playoff game against him, you can practically already see the highlight reel unwinding.

Paul Canniff contents himself with one small observation about soccer: "Anyone who has seen Roy Keane bear down on them for a flying tackle has truly known fear." Sean Phelan wrote a good letter which I'll summarize with one accurate sentence: "For about six weeks Dante Hall was the scariest athlete in the world." Finally, for the CFL fans, we have a letter I'd almost like to frame from Gerald Stang.
As a Saskatchewan Roughrider fan, I have to ask you to include any or all of the following: Tom Scott, Brian Kelly, Warren Moon, Larry Highbaugh, Jim Germany and probably Kepley. Every time I watched the Esks play the Riders in that [late 1970's] era, I knew at least one of those guys would kill us. I hated them at that time, but I respect them now. Can a whole team be classified as a Terror?
As much as the Esks fan in me likes the idea, the answer is a firm "No"--and I am reluctant to anoint anyone on the list as a Terror. The possible exception is Highbaugh, one of the most fascinating players in CFL history, but even that would be a stretch. The Esks brought him to Edmonton in '74 or so, not certain exactly what to do with him; he was about five yards faster than any other CFLer in a 100-yard dash, and had he made the NFL he probably would have been its fastest-moving player in a straight line during the period before Willie Gault and Herschel Walker. His hands were good enough that he ended his career as the CFL's all-time interception leader, and he was a fine kick returner too. He was the kind of guy who strikes Terror in opponents, but I'll leave the question to the judgment of those who were cheering against the '70s Eskimos.
- 11:25 am, March 2 (link)
---
This has to be a good playoff omen: Edmonton Oiler Matt Greene is run down by an out-of-control SUV. Greene is badly bruised and has to skip one practice. The vehicle? Totalled. -10:48 am, March 1
---